How To: Make a Gooble Doll
---
Gabba Friend, Wendy, made this great doll-sized replica of Gooble, the crying ghost on Yo Gabba Gabba. She has shared with us easy instructions on how we can make our own!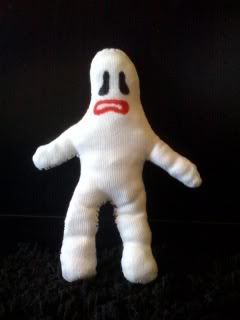 Wendy writes:
I decided to make my own Gooble doll after seeing the Gooble doll on Yo Blogga Blogga.
I used a onesie that my daughter doesn't fit in anymore. I sketched out a quick Muno figure and cut out the fabric. Then I just hand stitched it all around except by the legs, I filled it up with cotton and stitched it shut. Then I just grabbed a black sharpie for the eyes and a red one for the mouth... and razzle dazzle! Ta! Da!
(Vote for this How-to Tutorial for our Gabbafriends Contest after the jump!)